From Gifting to Tipping: Advice for a less stressful Season of Giving!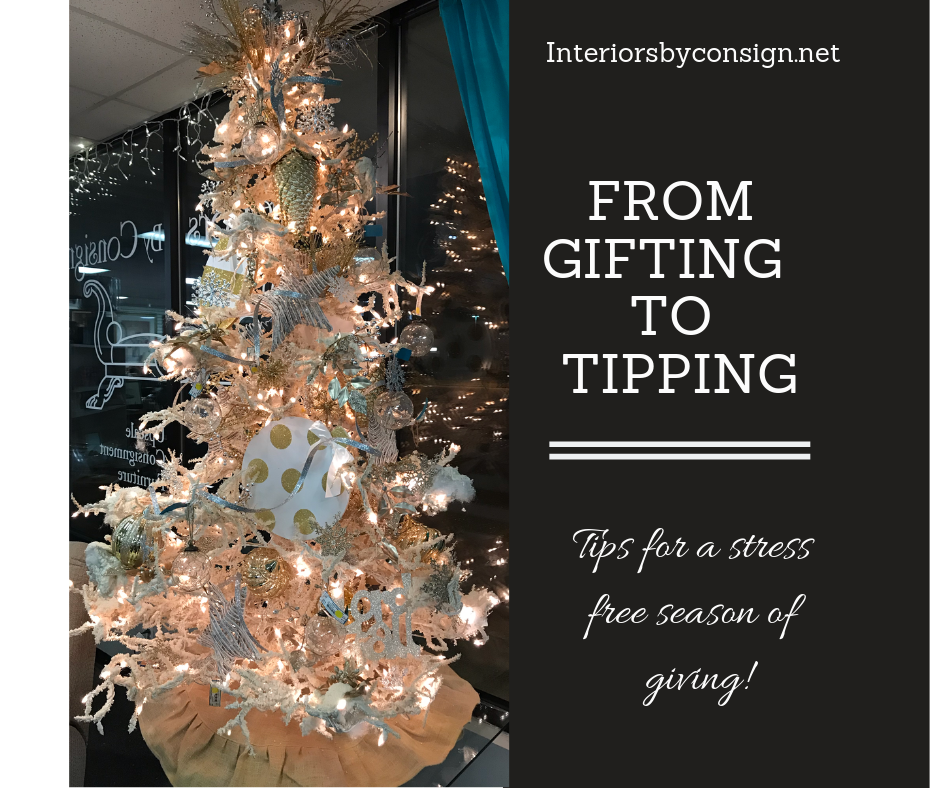 1) How to avoid losing or forgetting someone's wrapped gift! Years ago I had a very special gift for my niece that I just knew she would love. I waited anxiously for her to open it after driving 4 hours to our family event. The gift never surfaced from under the pile of gifts we drug several hundred miles. I had forgotten it—lost amid my own family gifts pushed to the back of the tree. I was so disappointed that I vowed I would not make that mistake again! Here is my solution. This has worked for me for over 10 years now!
Wrap gifts for each event in a separate and unique paper. – I use one paper pattern for each side of my family. One for my immediate family (husband, kids etc.) that will be opened at home, one for my side of the family in TN and one for my husband's family in Birmingham.
This helps with quick identification of each package, but accidents can still happen so –
Do not mix gifts going out of the house with gifts that will be opened at your home. I always have 2 trees. Gifts that will be opened at home, on Christmas day, are placed under our family tree in the sun room where we traditionally open gifts each year.
The dining room tree hosts all gifts that are outgoing… If you don't have 2 trees – just identify 2 separate spaces in your home. Commit to placing outgoing items in a different location from items that will remain at home. This way you can easily find gifts for friends and family and watch the pile dwindle as Christmas approaches.
2) Don't forget to hand deliver! Place small gifts for teachers, neighbors and helpers that need to be delivered in a basket at the back door. This will prompt you to deliver them when you have time, instead of causing a panic on the last day of school or Christmas Eve. Placing gifts that require action on your part in view instead of under a tree will serve as a great reminder!
3) Hostess gifts defined! A hostess gift is designed to say thank you for hosting and inviting us. It is a small token of appreciation not intended to be a major gift. Appropriate gifts are candles, ornaments, tea or kitchen towels, pretty napkins etc. Don't over think it! The purpose is just a quick thank you!
When selecting a hostess gift avoid items that are too personal or specific. That means no food items unless you are taking an absolute favorite. Allergies are a huge consideration here and your food item may not go with a planned menu for the party. Avoid cut Flowers that need water. These require the hostess to leave guests and find a vase etc. A small potted plant might be a better choice. Remember that the hostess likely will not open the gift in front of others, as she will not want to make anyone that may not have brought a gift feel uncomfortable.
We have lots of options for hostess gifts at both locations of Interiors By Consign. Stop in and see us and we will be happy to wrap your selection and get you on your way! Check out our Huntsville and Madison theme candles, towels and pillows – available only at Interiors By Consign!
4) Tipping guidelines – This can be a hard thing to sort out. Follow the link to Maralee McKee – Manners Mentor! https://www.mannersmentor.com/social-situations/simple-guide-to-christmas-tipping She has some great advice on this subject! I agree with her that sometimes it makes more sense to tip those in your life that you know need the money, if you are limiting your cash outlay! I also think there are many ways to express appreciation. A heartfelt note is often the most impactful thing you can do for someone. We often assume that others know how important they are to us – likely they would appreciate confirmation of that fact with examples of how they make your life better, richer, easier!
Merry Christmas Everyone! We are wishing you a blessed Advent Season and a fantastic 2019!