We love you to the Moon and Back HSV!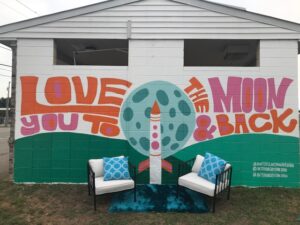 Have you seen the colorful mural on the south end of Whitesburg Drive in south Huntsville? Stop by soon and take a pic with someone you love! We have been so blessed to witness all sorts of life events celebrated, right in our parking lot! Couples have taken engagement pictures, moms have brought props and had pregnancy photos taken. We have seen baby, prom, and birthday pics! We love to see your photos! If you need someone to help you out – ask us! We take photos for folks all the time! Don't forget to tag us so we can see what you created! We love seeing who you Love to the Moon and Back!
You will find the Love You To The Moon and Back Mural at 8506 Whitesburg Drive SE – In the parking lot of Interiors By Consign. We are on the right, going south on Whitesburg Drive, about 2 miles south of Airport Road just past Bubby's dinner. You are welcome to park in our lot anytime – day or evening.
About the artist: We commissioned Anna Swatzell to create this beauty for us in celebration of the 50th Anniversary of the Saturn V rocket launch. We wanted something fun that represented where we live and work. Anna nailed it! We love the 60's-70's vibe she created with bright colors and the Hills of South Hsv in the background. Anna is 2015 Graduate of Grissom High School and now lives and works in Nashville as an artist. You can see more of her work on IG and social media @Swatzellartanddesign.