Letting Go Means You Lose Control! 2nd of 10 Things to Expect When Downsizing!
Considering downsizing? We talk to people every day that have taken on this process. It may be harder than you think to pare down. You will need to be mentally ready for this move. After all, this may be the first time you are not moving up to something you envision as bigger and better. For many people streamlining your home and possessions to a more manageable size can be a freeing experience. Freeing you of a lot of responsibility, lawn care, house cleaning, and expense. Freedom to spend your energy on other things beyond house management. Happy or sad: no matter your situation, there are a few things you need to expect.          This is the second of 10 things to Expect When Downsizing!
2) Letting go means you lose control!
give
ɡiv/
verb
gerund or present participle: giving  freely transfer the possession of (something) to (someone); hand over to.
https://www.google.com/search?q=definition+of+giving&rlz=1C1NHXL_enUS688US688&oq=defin&aqs=chrome.1.0j35i39j69i57j0l3.3655j0j8&sourceid=chrome&ie=UTF-8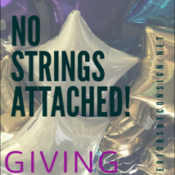 This is a hard one for almost all of us!  The act of freely giving what we have loved and often feel emotionally attached to can be difficult. It is a loss of control for sure.  We want to give things with just a little string attached. Maybe we need to know where it will be used or by whom. Often, we want to be sure the person getting it will not give it to their children or pass it on… and we certainly don't want it to be changed in any way.  What we are feeling is that we want someone to love and appreciate our items just like we did. This is almost impossible since the memories and emotions attached to our things are ours alone. You may value the solid wood or the finish of your furniture much more than a younger generation does.  The fact is … you cannot control what someone does with the items you give to them.
I have this conversation all the time with my husband who struggles with helping the homeless. He wants to help but he does not want his cash to be used to fund an addiction. All you can do is give what you have and let it go, knowing you did what you felt was right. You are not responsible for what someone does with the gift. Yours is the giving. This is where you release ownership and give up any say so in what happens to your items – the freely given part starts here.
This is also true when you donate or give to your friends and family.  You cannot give your china cabinet to your daughter and then be appalled when she chalk paints it! As hard as it may be to see your Grandmother's solid wood table painted teal – it is no longer yours and you need to be happy that someone is still using it! After all, if a new paint color allows the piece to work in her home – great, she is using it! It has new life. No worries… in a few years your daughter will be scraping off that paint and you can watch her work with a smile!
Want a Teal Table? Lovely Crafty Home has a great tutorial! http://lovelycraftyhome.com/2014/06/30/diy-weathered-table-finish/?utm_source=rss&utm_medium=rss&utm_campaign=diy-weathered-table-finish  
10 Things to Expect When Downsizing!
1) Feelings come flooding in!   Link to 1 of 10 Things to Expect When Downsizing!
2) Letting go means you lose control! Link to – Letting Go …
3) Your kids don't want your stuff!  Link to –  Your Kids don't want you stuff!
4) China and crystal and silver—oh my!  Link to –  China And Silver…
5) Your mother's Mid-Century furniture is coming back!  Link to – Your Mothers Mid Century…
6) Unfortunately, the antique market is struggling! Link to The Antique market is …
7) Collections are harder to sell than you think! Collections…

8) Self-Storage Units are a temptation you should resist! Link to Self-storage

9) Donations: How to find a non profit Donations

10) Get a plan – You will need help!